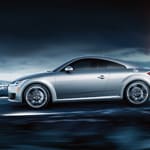 The Audi TT coupe is a classic breed of sports car. Its smart design pulls high levels of performance from the intersection of weight, balance, and efficiency. The masterfully blended recipe of the Audi TT coupe makes for a sports car that is not only easy to drive fast, but easy to drive in general.
The crisp handling and world-class grip of the Audi Quattro all wheel drive system is confidence inspiring to say the least. The advanced suspension design and short wheelbase of the Audi TT make it one of the best cornering sports cars in its class. The Audi drive select feature further amplifies the adaptability of the Audi TT by allowing drivers to select from four programmed drive modes; Comfort, Auto, Dynamic, and Individual. Each drive mode adjusts transmission shift points, throttle response, and steering effort for an optimized driving experience, while the Individual mode allows drivers to fine tune settings for their preference.
The Audi TT is a sports car of the vintage tradition. Visit Audi Atlanta to see just how much of a delight the TT coupe is to drive and own.