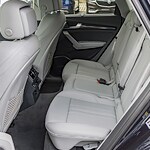 There's nothing like cruising down the road in an Audi Q5. The performance in this SUV is exceptional, even when towing a trailer. If you'd like to see all of the features the Audi Q5 offers, come by Audi Atlanta in Atlanta, GA!
The Audi Q5 has a top speed of 130 mph and packs a punch with 261 horsepower! This Audi SUV offers a 2.0-liter 4-cylinder engine. There is no problem getting to where you need to go in the Audi Q5 when it has a seven-speed S tronic dual-clutch automatic transmission and all-wheel drive.
The Audi Q5 performs well at a fast 0 to 60 in 5.7 seconds. If you commute or travel a lot, this SUV is a top choice if you want to have plenty of power when merging on the freeways! Consider the acceleration of the Audi Q5 when you decide on an SUV to take on your next big trip! Getting there in style and without worry is always a plus when traveling!