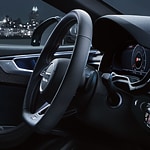 There is so much more to driving than just being able to get from one place to another. You want to enjoy the experience as well. At the same time, you want to look good while doing it. The Audi S5 Sportback gives you all these features and more.
You can't help but notice how unique the Audi S5 Sportback looks. This means that others will notice its stylistic design as you drive through the neighborhood. You will be comfortable while driving, all the while basking in the jealous looks that your neighbors give you.
Speaking of luxury, every attention to detail has been made to the interior. The stitching is elegant and the finest of materials have been used throughout. You will even get heated front seats with a massage feature.