Ready to Lease an Audi A3, A4, A5 or A6 in Atlanta?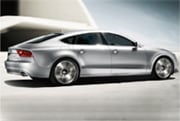 At Audi Atlanta, we're drivers just like you. So we can appreciate it when the intricacies of the finance process get a little confusing. Luckily, our team of Audi lease experts is here to help all of our clients from Atlanta, Sandy Springs, Decatur, and Chamblee get through the leasing process without pressure, anxiety or confusion.
When you utilize our leasing information tool below, you'll be able to get estimated information on your Audi lease at your own pace. We also offer info on lease stipulations such as mileage, wear and use and steps to take when your lease agreement expires.
Audi Financial Services is the only lender endorsed by Audi of America, Inc. Speak with one of our knowledgeable finance representatives to find out about Audi lease specials, or to apply for a lease today.