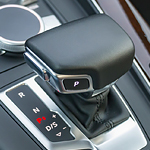 The Audi A5 Coupe is a personal favorite of our entire Audi Atlanta team as well as legions of fans. Audi combines brilliant engineering with advanced tech to craft sports-inspired luxury rides that dust the competition. It also helps that the Audi A5 looks magnificent inside and out. Here are two design features to illustrate.
Audi A5's Matrix-Design LED headlights are more than just highly energy efficient and ridiculously bright. They're also arrayed in a specific way to minimize light scatter, with the enhancement of laser technology for ultra-low, wide beams. Plus, the high beams adjust automatically at oncoming vehicles during your commute into Atlanta, GA or your time spent on the highway.
Audi A5 boasts reshaped front and rear bumpers. A Singleframe grille adorns the front, while side sills punctuate A5's profile. Athletic body lines complete the look, making A5 as aerodynamic as a race car and noticeably more sexy than other rides on the road. Visit our dealership today for an Audi A5 test drive. Behind the wheel is the best place to appreciate Audi's luxury coupe of tomorrow.