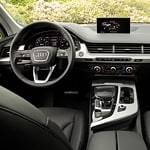 No company better exemplifies cutting edge technology than Audi. With sleek designs and the latest and greatest interior devices, stepping into one is like stepping through a time machine and into the future. That is why our team of Audi specialists at Audi Atlanta want to tell you all about one of our favorite Luxury SUV's, the all new 2020 Audi Q7.
The MMI touch response system is a huge touch screen measuring more than ten inches across that is embedded right in your dash. It can be used as a navigation tool and controls many of the other aspects of your vehicle. Also, you'll quickly notice the large virtual cockpit in the Q7 which drivers can easily see through the steering wheel.
Here, you'll be dynamic 3D effects that make getting to your destination easier than ever before. Wanna test drive the all new Q7? Stop on by to see us in Atlanta, GA today!