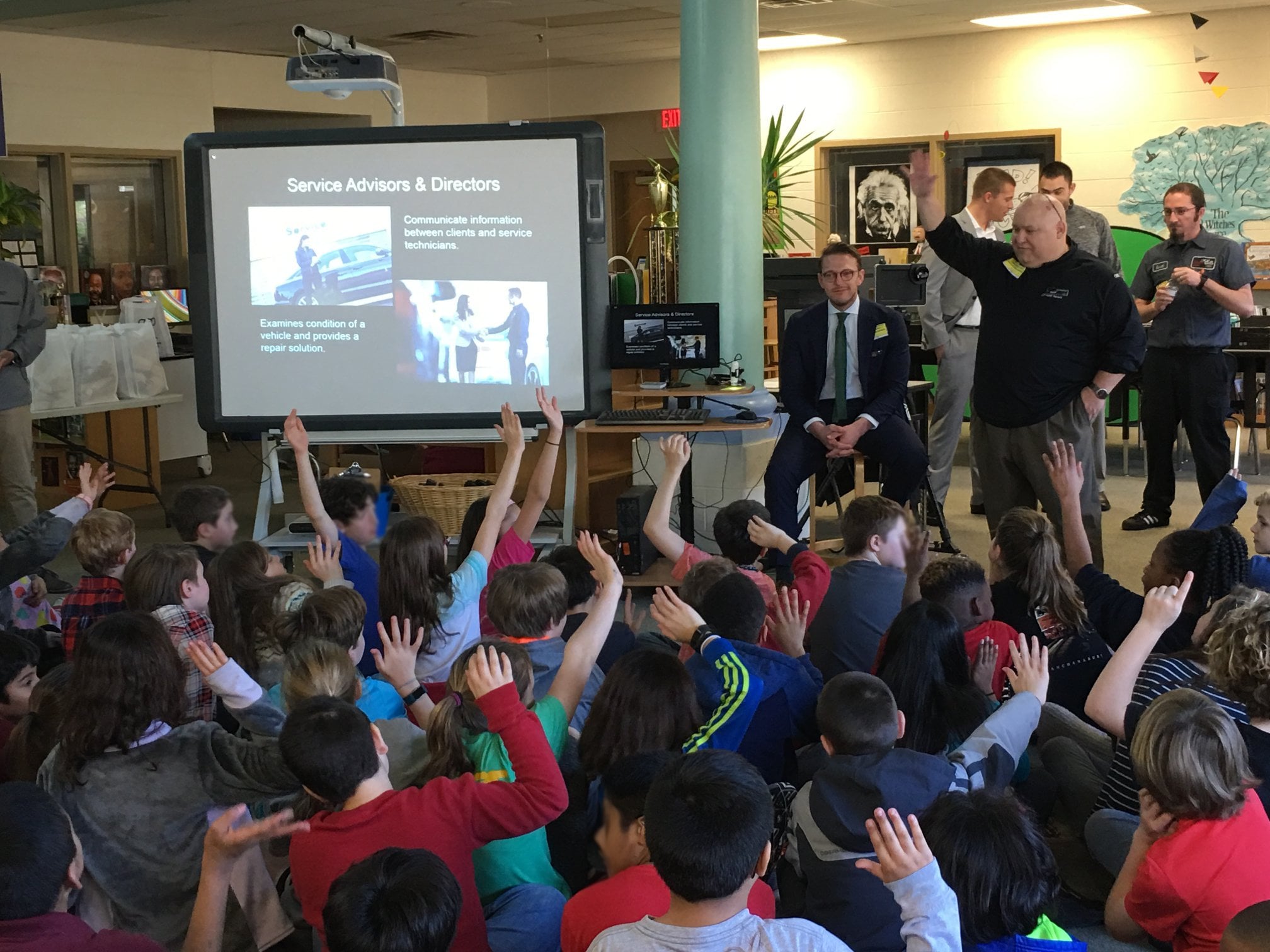 On Friday, February 16th, Audi Atlanta was honored to participate in a one of a kind community event at Oak Grove Elementary School. Eleven team members from each department of our dealership jumped at the opportunity to teach and inspire the next generation of Audi fans and even brought along a few surprises to help make this a memorable Career Day for years to come.
The Audi Team arrived at the school at 9:30 and gathered with two groups of fourth and fifth graders for a presentation in the library. After a brief introduction of our dealership by Vice President Tracie Maloney, the students learned about the history of Audi, its impressive racing legacy, and all of our spectacular models. The children were then presented with the numerous career opportunities available at Audi Atlanta and introduced to our employees including managers, salespeople, advisors, technicians, and administrators. As they engaged with the students, the speakers discussed how they got their start in the automotive business, the specifics of their position, and the exciting aspects of being a part of the Audi Family. Oscar Leguizamo, one of our talented Parts Consultants, even brought along a few Audi accessories for the children to see up close and presented them with an exclusive Audi t-shirt to take home. Sales Director Gerry Martel led a question and answer session and responded to all of the students' creative and exciting questions about the business.
The day was far from over as the Audi Team took the children to the parking lot for one final surprise. Once outside, the students got the chance to get an up-close look at nine of our Audi vehicles including an A3, A4, A5, A5 Cabriolet, A7, Q5, Q7, and TT. The unanimous crowd favorite was a spectacular Dynamite Red R8, affectionately known by the kids as the "Iron Man car." The students were able to climb inside each of the vehicles and get hands-on experience with all of their amazing technological features. A few dance parties even broke out as many of the kids cranked up the radios and showed off their moves. During the excitement, a few of the children expressed their enthusiasm in joining our Audi Family in the future. One boy declared that he wanted to become a salesperson when he grew up, and another little girl proudly exclaimed that she was going to be a technician!
We are incredibly grateful to everyone who came together to help make this unique experience possible, and we look forward to our next great Audi event in our community.