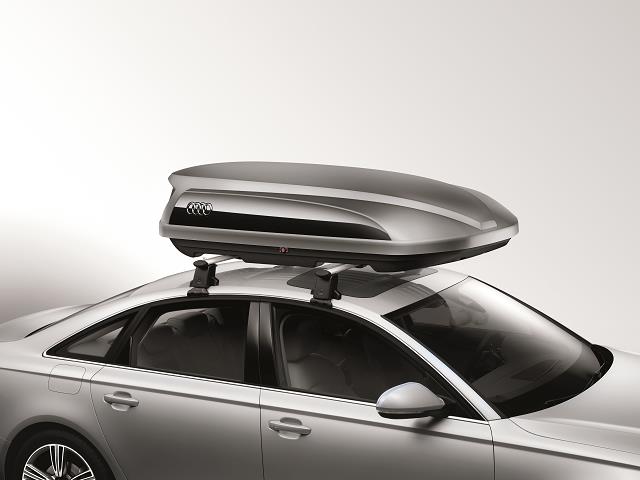 As fall begins, Audi drivers all across the country are preparing for a season full of weekend getaways, tailgating at sports games, and cross country trips to visit family and friends. No matter where your next journey takes you, the Audi Atlanta Parts Department offers a selection of carriers, roof racks, and accessories to transport all of your cargo safely and securely.
Audi's Base Carrier Bars form the durable and sturdy foundation of any roof rack. Audi Atlanta's Parts Department offers an assortment of carrier bar variations so you can find the perfect version to fit your specific Audi model. Each set comes with a strong pair of black plastic-coated aluminum cross bars that use power caliper-action mounting stanchions and built in locks to hold up to 165 lbs of cargo. When not in use, the ballistic-nylon Audi Base Carrier Bars Storage Bag allows for convenient storage of your carrier bars.
The compact and sporty Audi Cargo Carrier, perfect for those long car trips, has been newly redesigned for improved aerodynamics and expedient cargo roof storage. To make packing your cargo easier than ever this carrier has simple to use openings on both sides, each with an individual lock. With dimensions of 76.8"x26.4"x15.7, the sturdy Audi Cargo Carrier can hold up to 132 lbs of cargo and can be attached to most Audi models.
Audi Atlanta also offers roof racks specially designed to carry bikes, skis/snowboards, and kayaks. Roof rack replacement parts like end caps, new locks, and rubber strips are available to keep your Audi accessories looking as good as new.
Come in to the Audi Atlanta Parts Department today for all your cargo storage needs and visit us online to see the other Audi accessories and products available.