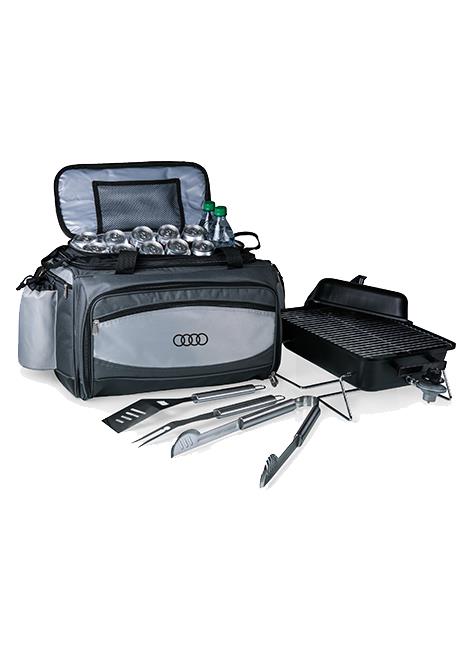 Football season is here once again and that means it's time for tailgating while enjoying cold drinks, delicious food, and the warm company of friends and family. At the Audi Atlanta Accessories Boutique, we have many amazing Audi products available for you to take your game day experience to the next level.
The Audi Gas Grill and Cooler Kit is an essential item for any sports fan, and contains everything needed for the perfect tailgate. Held together in a compact and sturdy tote carrier, this combo kit includes a fully removable PVC cooler, portable propane BBQ grill, and more. The large shoulder strap, reinforced waterproof base, three large zippered pouches, drawstring pockets for propane tanks, padded carrying handles, and stretch cargo cord on top make this kit both extremely versatile and easy to transport.
The 16"x8"x7" water-resistant PVC cooler sits conveniently inside the compact tote bag, and can hold up to 24 12-oz cans. This cooler also features two carrying straps on each side and an interior mesh pocket to store ice and gel packs. After unzipping the cooler from the tote, the 16.7"x10.8"x5.1" propane grill with lid can be easily removed and set up in minutes. A large spatula, one pair of tongs, and a BBQ fork are also included in this grilling set, each made of stainless steel and aluminum handles with non-slip thumb grips.
The Gas Grill and Cooler Kit contains everything necessary to create an amazing tailgate and is available for $269.95. To see all of the other products available in the Audi Collection come in to Audi Atlanta today or visit the Parts Department online.