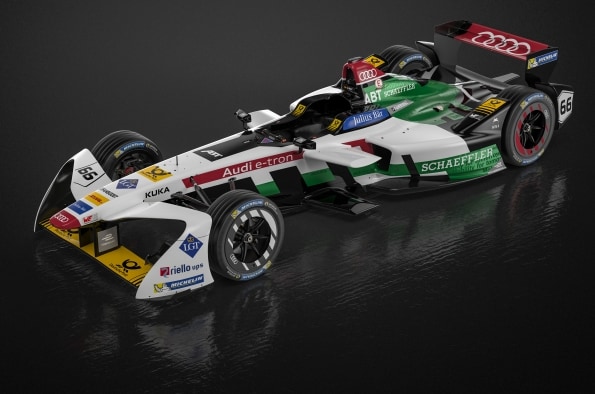 Throughout its many years of motorsports history, Audi has been at the forefront of the racing world time and time again. With a legacy that includes the creation of the quattro drive system, TFSI and TDI engines, hybrid drive, and more, fans are always wondering which innovation Audi will create next. Once again, Audi has taken a step towards the future with the announcement of its first ever all-electric race car.
After partnering with Schaeffler for the past few seasons, Audi has now taken over the Formula E Team to form the Audi Sport Abt Schaeffler Team. On Wednesday, September 27th, Audi celebrated the new team and presented its latest technological racing advancement in Neuburg, Germany. The e-tron FE04 is the first completely electric race car created by Audi and is said to pave the way for future electric Audi models. These unique track cars will be used over the next few years to test and perfect the electric technology designed for the next generation of Audi production models.
Inside the Audi e-tron FE04, the large lithium-ion battery generates a tremendous amount of power to provide a 0-60 time of 3.5 seconds and a top speed of 140. To make the Audi FE04 even more efficient, the team has created a specially designed motor-generator unit and a new high-efficiency one gear transmission. These technologies pair together to form the vehicle's core, which transmits power to each wheel for maximum acceleration. With the advanced central display, drivers can see system temperatures, the current charge of the battery, and other key information in real time. This electric race car also features new carbon housing as well as a redesigned powertrain.
The Audi e-tron FE04 is set to make its debut on December 2, 2017 at the Formula E season opener in Hong Kong. Leading the Audi teams will be three-time Le Mans winner Allan McNish. Racing legends Lucas di Grassi and Daniel Abt will be piloting two very distinct looking FE04's. Having already achieved a number of victories over the years, Audi has high hopes for this racing pair as they are set to enter their fourth Formula E season together. Over the past few weeks, the drivers have been hard at work with tests being carried out in Australia and Spain to ensure that the team is ready for the big race in December.
Be on the lookout for more exciting Audi racing news, and visit Audi Atlanta today to see all of the great technological advancements available in every Audi Model.