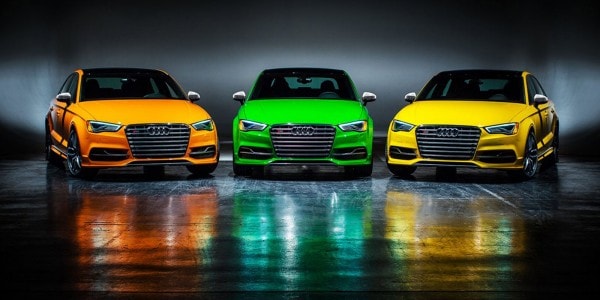 If you are looking for a vehicle that combines the elegance of Audi with your own individual style, then Audi exclusive may be the perfect program for you. Featuring an assortment of customization options and distinct limited editions, the Audi exclusive Custom Build Program has what you need to personalize and create your next Audi.
Fashioned with impeccable attention to detail, each customizable element of the Audi exclusive program is carefully crafted by hand to achieve complete perfection throughout the vehicle. Using only the highest quality materials, you can tailor your vehicle's seats, armrests, door trim, steering wheel and more with 16 possible leather and stitching options. Combined with seven different wooden inlays, these options can be mixed and matched to create a unique and luxurious interior. Each customization choice easily compliments any exterior look, including the vast collection of colors only offered with this elite program. Interior customizations are available for the Audi A6, A7, A8, S6, S7, S8, R8, and RS 5, while special exterior paint is available on all current Audi models.
Audi exclusive also includes various limited editions of select Audi models, which have been painstakingly created by Audi's inventive design teams. These vehicles combine vibrant colors, sleek interior components, and exceptional configuration possibilities to produce a distinctive look that is sure to impress any car enthusiast. Exclusive option packages are also available and can be found in the Audi Order Guide. Using stylish features including bi-color seats, contrast stitching, Piano Black inlays, and more, these packages can add a sophisticated and expressive feel to your Audi.
Come into Audi Atlanta today to find out how you can create your own personalized vehicle with the Audi exclusive Custom Build Program, or call (888) 457-3992 to schedule an appointment with one of our Audi Brand Specialists.