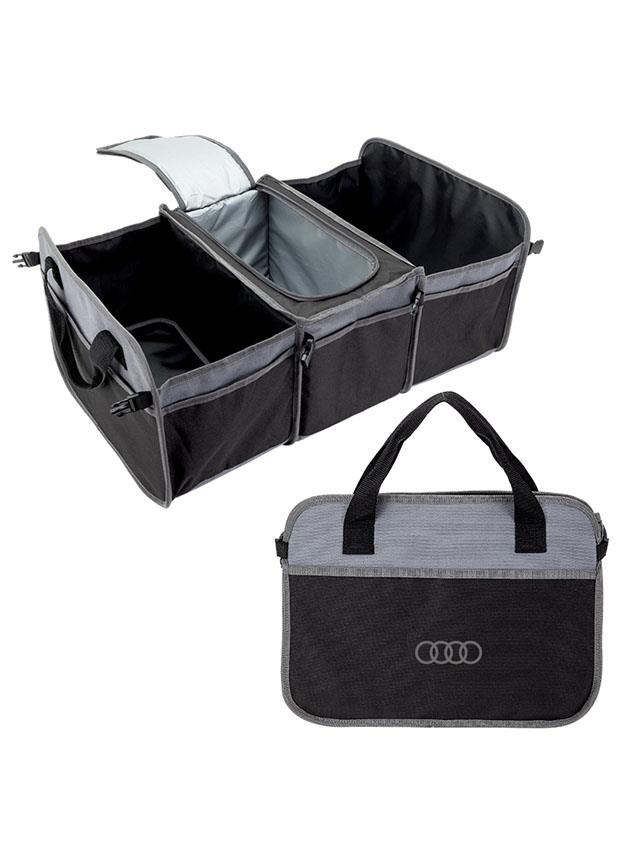 With the Holiday Season fast approaching, we understand how important it is to keep the cargo area of your vehicle neat and organized with premium Audi parts and accessories. The Audi Trunk Organizer with Cooler is perfect for any long distance road trip and makes it easier than ever to keep everything in the back of your Audi well-ordered and accessible.
This organizer contains three large collapsible compartments as well as five side pockets for storage. Built in bottom stiffeners and carrying handles make the organizer ready to go when you are, and allow easy transport of your cargo to and from your vehicle. The trunk organizer also includes a 34-can PEVA-lined and zippered top cooler, perfect for keeping snacks and drinks cold while on the go. With dimensions of 15.75" Wx11.25" H when folded, this organizer is easily stored when not in use and expands to 25.5" L to hold anything you might need.
The Audi Trunk Organizer with Cooler is available at your favorite Audi dealership, Audi Atlanta for $41.95 or online at the Parts Department website.